The 3 Primary Components of SEO: A Great Guide for Beginners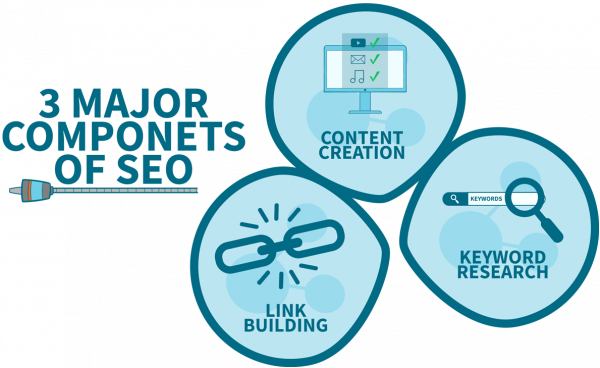 Search engine optimization, also known as SEO, is the process of improving your rankings on search engines for desired keywords. Learning the major components of SEO will have a successful SEO campaign and help you rank higher in search results and increase traffic to your website.
SEO can be done in many ways but there are three main steps: keyword research, content creation, and link building. By doing all three you should see a significant improvement in your rankings over time! In this article, we will be discussing every aspect and include more information on SEO.
Keyword Research
Keyword research is the process of finding relevant keywords that you can target with your content. The more specific the keyword, the better because it will be easier to rank for and less competitive. You want to find a balance between ranking well (low competition) and also having enough traffic flow through (high volume).
Keywords are the foundation of search engine optimization which is why it is considered one of the three components of SEO. They give a web page its rank when it comes up in searches. There is no better way to get that ranking than with good keyword research tools. There are lots of different keywords out there for you to find and use. The question is how do you know which ones are the right ones?
The best way to identify keywords that are perfect for your website is to consider your target audience and examine their intent. Once you fully understand why they search for a particular keyword, you can easily create a list of keywords that you can use on your content and rank for each.
Since keywords are what search engines use to connect users to websites, it means they should be easy for your audience to remember so that when they want to find more information about your topic, they can easily type the keyword and find your website quickly. This is a vital part of building a successful website and using keywords can help you get there.
Top 3 Keyword Research Tools
Ahrefs
Ahrefs is a tool that allows you to see which websites are ranking for a certain keyword, as well as how much traffic those websites are getting. You can also use it to spy on your competitor's website and find out what keywords they're targeting!
Moz
Moz is another great SEO tool that offers both a free and paid version. The free version offers information such as how many backlinks a site has, its domain authority, and page authority. It also gives you access to other great SEO tools like Moz Keyword Tool!
Semrush
Semrush is a tool that allows you to see how your website compares to your competitor's websites. It also offers information on what keywords your website is ranking for and how much traffic those keywords are generating. You can also use it to find new long-tail keywords!
Content Creation
Content creation involves writing blog posts or other optimized web pages on your site which contain targeted keywords throughout them. It's important to make sure there are no grammatical errors in these articles as Google now penalizes websites that have too many spelling mistakes! Make sure all topics are related and stay consistent throughout your website so they don't look unorganized to users browsing around online. For example, if you write an article about SEO tips, be sure to link it back to your homepage and sales pages so people know where they can learn more about SEO.
Content marketing is a great way to get your business in front of people and drive traffic to your website. However, creating content can be difficult. There are many things you have to take into consideration, such as audience, voice tone, topic selection, and so on. It's not enough just to write something that sounds good or looks nice on the page – if it doesn't resonate with your target audience then it won't work no matter how well-written it may be!
Tips for writing content:
Write about something your audience is interested in.
If you write about topics that they don't care about then it won't be successful no matter how good the quality of the post.
Write in a friendly tone. You want your audience to feel a connection with you when they read your posts so write in a way that sounds like something a friend would tell them about.
Include images in your content. This is a great way to break up your text and make it look attractive. You can use these in different ways too. Try including some "before" and "after" style photos where you show the before state of something (such as a messy garage) then after showing the transformation that happened when using your product or service.
Include a call-to-action. This is where you ask your audience to take action. Perhaps they should sign up for a newsletter or leave their email in exchange for something. You can also use CTAs to try and get them interested in reading another post of yours that might be related. Such as one on how to organize the garage after using your product/service.
Link Building
Link building is the process of getting links from other sites that point directly towards your website. You want these links coming from reputable sources! There are many ways you can go about this such as asking a blogger or business owner. Only if they could put a link on their page for you in return for a favor (such as writing an article about them), linking out to other websites who have relevant content related to yours, having another company mention one of your articles on social media with a link attached to it, etc. The possibilities are endless but remember not all backlinks will help improve rankings. Because some may actually hurt depending on where they are coming from!
Link-building not only boosts your search engine ranking position (SERPs) on Google and other major engines like Yahoo! and Bing, but can also provide valuable traffic for your content over time too. As such, you need to have a solid link-building campaign set up whenever they need to raise awareness around their brand name by publishing new posts online.
Link building is an important part of any website's SEO strategy. However, it can also help to drive additional traffic towards the web page you are writing about. Therefore, it's vital that companies have a well-thought-out link-building plan in place whenever they write new blog posts. Or publish updates online in order to raise awareness around their company name and build brand authority over time.
Essential SEO Tips for Beginners
So now that you have a general idea of how SEO works. I want to list some essential tips for making your website rank higher in search engines.
Make sure all images on your site contain alt tags with keywords attached to them.
Use LSI (Latent Semantic Indexing) within articles and metadata. This is done by including the same keyword multiple times throughout related content rather than just once per article/meta description
Don't try spamming websites with backlinks as this can lead to penalties and hurt your rankings. Instead, focus on quality over quantity when it comes to link building strategies
Create an XML sitemap and submit it directly through Google Search Console so new pages are discovered by Google more often
Maintain a blog on your site for it to be considered active and up to date with current trends related to topics you already publish content on. This will help increase traffic flow.
Use keywords in your title tags
Keep your URL short, clean, and simple
Write for humans first, search engines second
Make sure you have unique meta descriptions on all pages of your site
SEO isn't about tricking the algorithm; rather, think of it as giving the engine what it wants so that you rank well for specific keywords or phrases that match up with your content (or pages).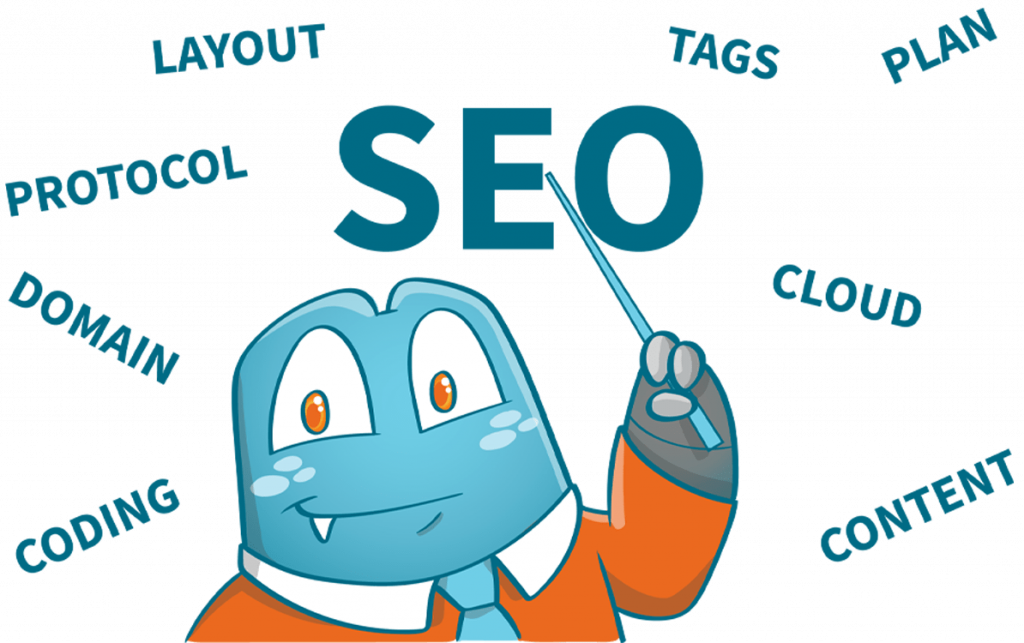 Importance of the Components of SEO for Websites
Search engine optimization (SEO) is one of the most important aspects of any website. If you are not optimizing your site for search engines, then you are missing out on a huge chunk of potential visitors and customers. The good news is that SEO doesn't have to be difficult or time-consuming.
Search engines are always crawling the web to see what content they should rank higher in their results. If you want your site or business to be seen, then you need SEO. There is a lot of competition out there for rankings and clicks on search engine results pages (SERPs).
However, with good SEO practices, it can increase your chances of ranking well above competitors that don't take advantage of this marketing strategy. Not only will search engine optimization help drive traffic to your website from Google's organic listings but also through social media sites like Facebook & Twitter.
These days, people are more interested in seeing information about brands through these platforms rather than visiting company websites directly since everyone has access via mobile devices regardless of whether they're at home, work, or on the go. There are a number of ways to approach SEO as it can be done in different stages and levels.
It is important for marketers and business owners to decide how much time they want to spend optimizing their web content. Do it before moving forward with an overall digital marketing strategy.
Once you've received links from other websites, it is time for you to spread the link authority you've received. One way of doing so is to link your web pages internally. When linking internally, you will need a reliable tool by your side, check out Internal Link Juicer today!
Mastering the 3 Major Components of SEO for Better Site Metrics
When achieving a successful website, you will need to master the basics such as keyword research, link building, and content creation. Once you do master them, gaining a high website performance and loyal readers and customers will be easier to accomplish.
Spreading link juice is another story. Links from other sites give out link authority and it is your responsibility to spread it across your web pages. When doing so, you'll need an excellent internal link managing tool like Internal Link Juicer.